Artelo Biosciences Completes Positive Pre-IND Meeting with FDA for ART26.12
Announces Plans to File IND Application in Neuropathic Pain
SOLANA BEACH, Calif., Sept. 07, 2023 (GLOBE NEWSWIRE) -- Artelo Biosciences, Inc. (Nasdaq: ARTL), a clinical-stage pharmaceutical company focused on modulating lipid-signaling pathways to develop treatments for people living with cancer, pain, and neurological conditions, today announced it has completed a pre-IND (Investigational New Drug) meeting with the U.S. Food and Drug Administration (FDA) regarding the manufacturing, preclinical and clinical development plan for ART26.12. Based on the FDA's feedback, the Company also announced that it plans to file an IND application for the use of ART26.12 in neuropathic pain in the first half of 2024.

ART26.12 is a potential first-in-class orally administered Fatty Acid Binding Protein 5 (FABP5) inhibitor drug, initially under development for the prevention of chemotherapy-induced peripheral neuropathy, a debilitating and often treatment-altering side effect of cancer therapy. The FDA reviewed the IND-enabling preclinical data, manufacturing plans, and clinical study protocol synopses, provided guidance, and answered Artelo's questions on the development plan.
"We greatly value the FDA's guidance as we complete our remaining IND-enabling studies," said Dr. Andrew Yates, Chief Scientific Officer at Artelo Biosciences. "The guidance we received was positive and validating as we prepare to advance ART26.12 into the clinic."
Gregory Gorgas, CEO of Artelo Biosciences, further noted, "We look forward to filing an IND application in order to obtain clearance for the first-in-human ART26.12 Phase 1 clinical trial. Importantly, based on our preclinical studies, we believe ART26.12 holds the promise to address a variety of painful neuropathies, whether they are caused by chemotherapy or are disease related such as diabetic neuropathy."
According to Persistence Market Research, the global neuropathic pain market was approximately $7.6 billion in 2022 and is expected to exceed $14 billion by the end of 2033.
About ART26.12
Fatty Acid Binding Proteins (FABPs) are a family of intracellular proteins that chaperone lipids including endocannabinoids and fatty acids. Various inhibitors of FABPs may be particularly useful for the treatment of specific cancers, neuropathic and nociceptive pain, and anxiety disorders. ART26.12, Artelo's lead FABP inhibitor compound, is a selective inhibitor of FABP5. While developing our lead molecule for chemotherapy-induced peripheral neuropathy, additional compounds from our extensive library of potent and selective inhibitors of FABPs have been identified and selected for advancement towards regulatory-enabling studies in cancer and other areas of high-unmet need where inhibition of FABPs show significant promise.
About Painful Neuropathies
Peripheral neuropathy refers to a condition in which there is damage to the peripheral nerves. These nerves are responsible for transmitting signals between the central nervous system and the rest of the body. Chemotherapy-induced peripheral neuropathy (CIPN) is a common and often painfully debilitating complication of cancer therapies, sometimes resulting in reduction or cessation of treatment. No currently approved treatment exists for CIPN.   Diabetic neuropathy refers to a type of nerve damage that occurs as a complication of diabetes. It is caused by long-term high blood sugar levels, which can lead to damage of the blood vessels and nerves throughout the body.   The prevalence of diabetic neuropathy is significant due to the increasing number of people with diabetes worldwide.
About Artelo Biosciences
Artelo Biosciences, Inc. is a clinical stage pharmaceutical company dedicated to the development and commercialization of proprietary therapeutics that modulate lipid-signaling pathways including the endocannabinoid system. Artelo is advancing a portfolio of broadly applicable product candidates designed to address significant unmet needs in multiple diseases and conditions, including anorexia, cancer, anxiety, pain, neuropathy, and inflammation. Led by proven biopharmaceutical executives collaborating with highly respected researchers and technology experts, the company applies leading edge scientific, regulatory, and commercial discipline to develop high-impact therapies. More information is available at www.artelobio.com and Twitter: @ArteloBio.
Forward Looking Statements
This press release contains certain forward-looking statements within the meaning of Section 27A of the Securities Act of 1933 and Section 21E of the Securities Exchange Act of 1934 and Private Securities Litigation Reform Act, as amended, including those relating to the Company's planned IND application, product development, clinical and regulatory timelines, market opportunity, competitive position, possible or assumed future results of operations, business strategies, potential growth opportunities and other statement that are predictive in nature. These forward-looking statements are based on current expectations, estimates, forecasts and projections about the industry and markets in which we operate and management's current beliefs and assumptions. These statements may be identified by the use of forward-looking expressions, including, but not limited to, "expect," "anticipate," "intend," "plan," "believe," "estimate," "potential," "predict," "project," "should," "would" and similar expressions and the negatives of those terms. These statements relate to future events or our financial performance and involve known and unknown risks, uncertainties, and other factors which may cause actual results, performance or achievements to be materially different from any future results, performance or achievements expressed or implied by the forward-looking statements. Such factors include those set forth in the Company's filings with the Securities and Exchange Commission, including our ability to raise additional capital in the future. Prospective investors are cautioned not to place undue reliance on such forward-looking statements, which speak only as of the date of this press release. The Company undertakes no obligation to publicly update any forward-looking statement, whether as a result of new information, future events or otherwise, except to the extent required by applicable securities laws.
Investor Relations Contact:
Crescendo Communications, LLC
Tel: 212-671-1020
Email: ARTL@crescendo-ir.com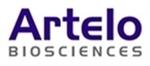 Source: Artelo Biosciences

Released September 7, 2023